Experiences Shared By Members Of MahaParayan:
hide
Sai Baba Changed My Life And Helped Me With Many Miracles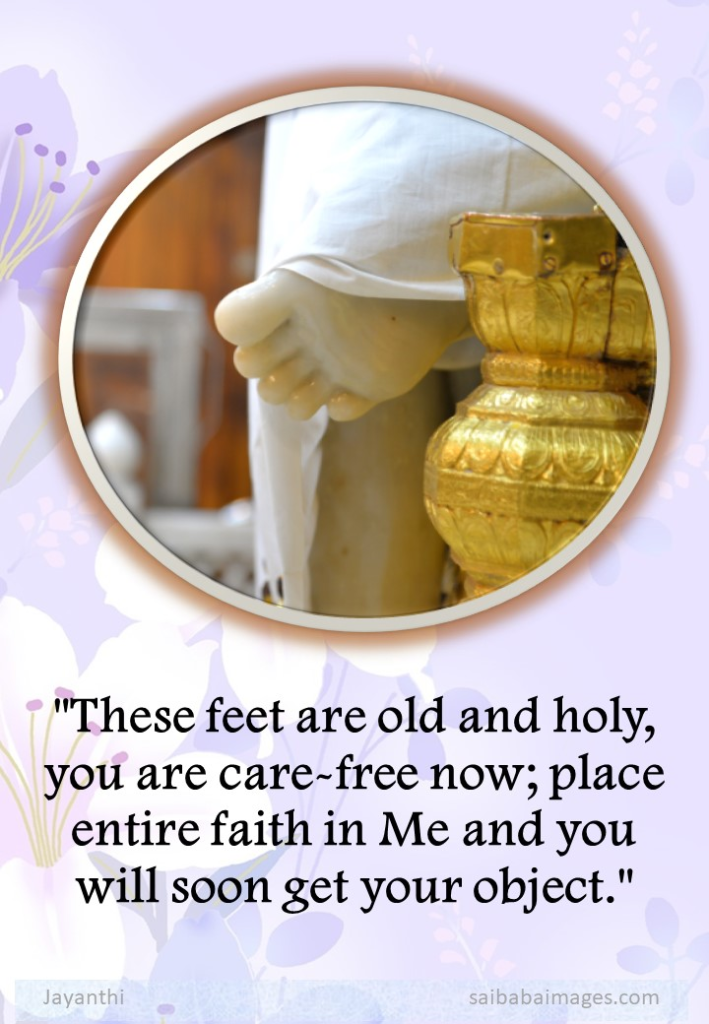 Shirdi Sai Global Mahaparayan Devotee Anjali Sai From India Says:
Om Sai Ram All.
I'm happy to share my experience of one of the incidents that happened today for the first time in my life in which Baba taught me a wonderful lesson of not judging anyone so easily. He also showered His blessings on me by showing His presence with me by solving the misery.
My name is Anjali Sai. I am a part of the Global Mahaparayan Group MP-751N1. I've been part of this group for the past 2 years and want to be a part of it until my last breath by doing Sai's Seva, if Sai wishes and gives me strength to do so.
I'm in such a situation that I had no shelter to stay for some personal family issues. I was wandering here and there, staying in friends' houses and praying to Sai. I was continuously trying to find one by never losing my faith in Him. After struggling for one and half months, I found a safe shelter by Baba's grace now. I'm going to shift there on Thursday (My Sai Baba's day). I feel this is happening only because of Sai's grace and He is showing His presence to me. Jai Sairam.
I would now like to share what lesson I learnt from Baba.
Yesterday I went to the supermarket to buy some necessary things for my new house where I'm going to move in. I shopped for all the necessary things and returned back home safely. But the next day when I remembered my wallet, it was missing along with the things that I brought home back. Since I didn't carry my sling bag this time, I had kept it in my carry bag and had forgotten to take it out. So thinking that I left it in my carry bag, I searched everywhere all over the house. My friend was also helping me to search. We both searched like anything, but found nothing.
I started praying to Baba asking for help. Even after praying multiple times, I couldn't find my wallet. Then I started weeping very badly. Then I called the supermarket and asked them to check if I had left there. As I had paid the bill through Gpay, I didn't even take out the wallet from the carry bag. But, they said, it was not found. Then I asked them to check CCTV. Meanwhile, me and my friend went down to the supermarket and checked CCTV thinking that if at all we have missed there, we would come to know. I had full faith in Baba that He will help me in getting my wallet and the things back.
There was a guy (Staff at Supermarket) who seemed to be a suspect to us. We spoke to the incharge person nicely and conveyed them to check with their staff because it was not only about money, it was about all my original cards, like Aadhaar Card, Pan Card, Debit Cards, Sai Baba's Udi and Voter ID. So, I was worried a lot. Understanding my situation, the Incharge person enquired the suspected staff before and after us. But the suspect didn't accept our allegation. We pleaded with him – still we got the same answer from him that he hadn't taken it, but CCTV showed him the suspect touching my carry bag by bending and all. Still he was just a suspect, even we were not sure. But then we continued our prayers to Sai Baba and we disappointedly started returning home.
Meanwhile a miracle happened. Actually, yesterday before going to the supermarket, we had also been to a steel shop to buy a few things. I had paid there with Gpay, so I was sure that I didn't take out my wallet. So we didn't inquire about that shop. But today after coming out from the supermarket after all this misery and high disappointment, we thought of enquiring in the steel shop as well. As soon as we stepped in, that shop man was like, "Come madam, you left your wallet here yesterday. I know it's very important to you, So I have kept it safe. Please check if anything is missing." Just think of my situation or reaction. It was just like Sai Baba came in his roop & solved my problem like a water bubble.
We both were in shock mode and guilty mode as well; all mixed feelings. Happy tears started rolling down my cheeks. So, we thanked the steel shop owner, thanked Sai Baba for everything. And then we had a huge guilt feeling for the supermarket staff. We both went down to the supermarket again and spoke to the incharge as well as and that staff member whom we had suspected. We apologised to them for our mistake before everyone. They told, we all had prayed for your loss. I felt emotional and thanked them all.
I know this is a pretty long story, but dear Sai devotees, all I wanted to tell you is that, life is very short, we can't learn all the lessons from the mistakes only made by us, we should learn from others too. So, out of this, what I learnt is, If I could have gone to the steel shop directly to ask if I had missed my wallet there, then we could have avoided this misery. But Sai wanted me to learn a lesson out of this, that I shouldn't judge anyone so easily. Also, to be responsible anywhere I go and all that I do. God will always be on the side of kind beings. Sai was with me as well as with that guy whom we had suspected.
So, let's not judge anyone easily and be responsible for all that we do.
I had promised Baba that if I get back my wallet with all the things back then I will share this experience for the Sai Devotees experience blog. (MP/Non-MP). Hence I'm posting it.
Thanks to you all for reading this.
Bow to Shirdi Sai. Peace be to All.
Jai Jai ho Sai. Om Sairam!
Sai Devotee Anjali Sai
#MP-Experience 1989
Grandson Got Through The Entrance Exam
Shirdi Sai Global Mahaparayan Devotee Krishna Swamy From India Says:
With Baba's blessings my grandson got through his entrance exam which was so difficult to succeed. Our beloved Baba showered His grace on him and I can't express my gratitude with any words.
Baba is great. Thank You very much Baba. Om Sai Sri Sai Jaya Jaya Sai.
Sai Devotee Krishna Swamy
#MP-Experience 1990
---
Those who wish to volunteer any service for Global Mahaparayan, may join temporary whatsapp group MP Sevaks and we will get in touch with you. Rise and Be Instrumental
Let's give the steering control in the hands of our Deva and just sit back and enjoy this wonderful ride of life. None can be like You Deva - The Greatest Saviour ever. He knows everything and saves us. He will restore all that is lost and bless His devotees with more than their expectations. He will teach us in His ways. He is the best Guide and mentor that anyone can have. Thank You and Love You Deva. Jai Jai Ho Sai!😊 - Pooja Garg
14-June-2022
© Global MahaParayan Experiences – Member of SaiYugNetwork.com