Experiences Shared By Members Of MahaParayan:
Shirdi Sai Global Mahaparayan Devotee Devika From Middle East Says:
Pranam,
I would like to share one of my recent experiences where I enjoyed Baba's love and affection in abundance. We are a small family of three; myself, my husband and our daughter, staying in the Middle East. I joined Babaji's Mahaparayan group around 7 months back. It's better to say, Baba just put me in the right place with His magical play.
My daughter is a doctor preparing to go to the US to get clinical experience as a mandatory criteria for applying to US medical PG courses. We found it extremely difficult to get through the travelling permit and immigration process though she has a valid visiting visa, due to the pandemic situation all over the world. At one point, we almost lost all hopes as all information centers conveyed that visiting visa holders would not be allowed to travel to the US. If she missed the chance, then she would need to wait for another one year to get through and all the preparations for the past one year would go in vain.
We went through a tight difficult situation. Somehow, she planned to move ahead with courage and determination, took Thursday Vrat for Baba on my advice and moved ahead.
By Baba's love and grace, she was permitted to enter the US and contrary to all the information we got from travel agencies, everything went on well at both the airports. I must say this with tons of love and gratitude, my Baba just picked her hands and travelled with her all along the way. Baba, the living energy, guided her, protected her and stood with her as a shield made of iron. Baba, let Thy grace be with us, with each and every being in this universe as the guiding light, hope, will power, promise, energy and unfailing love.
Miracles just happen at some point of time just as how a flower blooms at midnight darkness, so silent and humble, so pure and beautiful. It's all part of nature's process. Just stay deserving with folded hands and a humble heart filled with nectar of love and faith.
My Baba, Pranam from Your daughters. Always and always love with the attitude of gratitude
Sai Devotee Devika

#MP-Experience 1552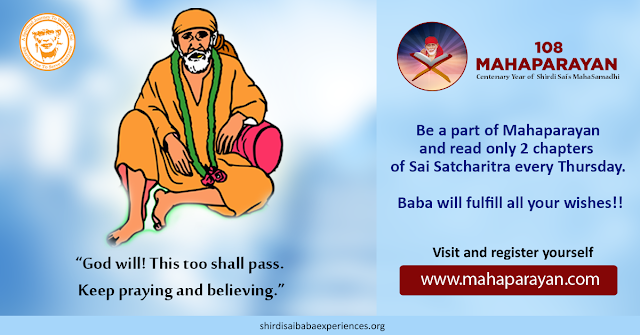 Anonymous Shirdi Sai Global Mahaparayan Devotee From India Says:
Hi, Sai Ram. I am a member of the Mahaparayan Group MP-7927N1 Anusha Sai. I would like to share my experience with all devotees.
I was not a believer of Baba until May 2020. My family and I have had to face many problems recently. The last blow was that my husband had to resign from his job due to office politics in April. It was difficult to find a new job because of the corona situation. I prayed to God continuously to show us a way. Then somehow I remembered Baba and started reading about Him. We requested Baba's Udi online since we live in Kerala. Found a link to join Mahaparayan and with Baba's blessings, I could join the group on June 6th 2020. We started the parayan on June 11th.
I was sad that I didn't even have a picture of Baba with me. We couldn't go out and buy a picture because of the lockdown. I desperately wanted Baba's picture. The next Thursday we got a parcel and when I opened it, I cried because of joy. It was the Udi packet from Saidham along with a beautiful picture of Baba!
By the second week, my husband got a call for an interview. First round went well and they scheduled another round next week. I started doing the Sai Nav Guruvar Vrat too. The day after the second Guruvar vrat, my husband got the offer letter for his new job. Thank You Baba. Love You Baba. Even though I came to Him just two months back, Baba blessed me and my family enormously. Please keep blessing all Your devotees like this Baba.
Thank you Pooja ji for giving us this Mahaparayan and this platform to share our experiences.
Anonymous Sai Devotee
Those who wish to volunteer any service for Global Mahaparayan, may join temporary whatsapp group
MP Sevaks
and we will get in touch with you. Rise and Be Instrumental

When we establish our soul in devotion to Sai, Sai takes the immediate charge of His devotees for generations together. Baba makes all the obstacles vanish and helps His devotees to achieve their goal and fulfill their desires. So ever remember Baba, worship Him wholeheartedly and chant His name and be blessed and then one need not worry about anything as Sai our Universal Father will take all the care and things will start changing drastically. Without gratitude our soul is incomplete. With gratitude, which is so powerful, everything can change. Be grateful and feel it and abundance will start flowing. Thank You and Love You Deva. Jai Jai Ho Sai!😊
– Pooja Garg


6-Nov-2021
www.mahaparayan.com
Keep Doing Parayan, Good Things Would Surely Happen
and have already started happening too !!!
Submit MahaParayan Experience Join As Member Submit Experience on SaiYugNetwork.com
© Global MahaParayan Experiences – Member of SaiYugNetwork.com