Experiences Shared By Members Of MahaParayan:
hide
Sai's Grace On Me And My Family
Anonymous Sai Global Mahaparayan Devotee From Europe Says:
Om Sai Ram!
Hello/ Namaste, I am part of the Global Mahaparayan group MP-1204N1. Kindly find my experience below, which I would like to share anonymously. Thank You very much. Thank You once again for the wonderful seva that You are doing by organising the parayans! Om Sai Ram!
I joined the Global Mahaparayan group MP-1204N1 in September 2019. A few months before that, in April 2019, a school friend whom I hadn't seen for many years noticed that I had posted a picture of Baba in our school Whatsapp group. So she reached out to me. She asked me if I wanted to join the Global Mahaparayan (MP) and she explained how it works. (I had never heard of the MP before, though I had got the Sai Satcharitra book some years ago in India.) I was studying for a degree at that time, so I asked my friend to wait and introduce me to the MP group after a few months, in September 2019. I am really grateful that she asked me to join this wonderful family.
I was introduced to Baba when I was a young girl through my family in India – and have remained a devotee since then. My mum and dad and both their sides of the family are spiritual people and have deep faith in Baba. My parents and also my uncle used to take me, my siblings and cousins to the beautiful Sai Baba temple in our city. I have even had the good fortune of visiting Shirdi with my family.
My mum's sister who lived in Europe (she has now passed away) was also a staunch devotee of Sai along with her family. Many years ago this aunty and her family narrowly escaped a very big accident with the grace of Sai Baba. My uncle, who was driving the car, had to swerve off the road to avoid a cyclist who was wearing white clothes, who seemed to have appeared from nowhere. Their car ended up in a dangerous position as they were driving in a hilly area. My aunty kept on repeating Sai's name and one by one the family (aunty, uncle and my cousins) were able to get out of the car safely. (This is how I remember their story, which I heard when I was young – my humble apologies if there are differences, as I have not reached out to check exactly how things unfolded).
This story about Sai Baba's grace on our close family had a deep impact on me as a child. This incident and other events in my life during my younger days; while I got educated, got married and had kids – all confirmed that Sai Baba was and is a big part of our lives.
I thus grew up believing that I could turn to Baba for anything. This has been my experience throughout my life. When things go well in my life, I am certain that He is responsible and when things do not go my way, I am still certain that He is here with us, with His loving hand right there over our heads, protecting us from something far worse, and 'softening the blow' as it were.
I believe that both my daughters are miracles of Sai. I remember the gynaecologist had told my husband and me early on in our marriage, that as a couple, we only had a small chance of ever conceiving a child but Sai gave us two lovely daughters. I often tell the girls that they are 'God's children, Sainath's children.'
As they grew, I worked part-time teaching English to foreigners here in this small European country where we live. When they were teenagers, my girls encouraged me to start working again, so I studied for a diploma and got a job in sales and marketing but I was not settled and moved from company to company for several years. That's when I started studying for a Master's degree. I lost my job some months after starting the degree and was at a professional low when a recruiter suggested that I move into a completely new sector of work. So, whilst studying for the degree, I entered into a new field of work and worked for about 2 years in 2 different companies. All of this, just like other blessings in my life, was only possible with the grace of our Sai.
In September 2019, after completing my Master's degree, I joined the Global Mahaparayan group through my school friend as I described above. Looking back at the dates now, I realise that it was just a few weeks after joining the MP group (in October 2019) that I put in an application for a job in a big organisation that I really wanted to work in. I had been toying with the idea of applying to them for a few months and had reached out to a contact in the HR department in April 2019. After putting in my application in October 2019, I followed up, but got no answers from them. A few months passed and I continued working for the small company that I was in, still grateful for all the experience that I was picking up in this new field.
Then soon after the pandemic hit, early in March 2020, I sent a message to follow up again. In the days that followed, I was asked to re-send my CV. One day, a couple of weeks later, when we were all working from home, to my surprise I got a call inviting me to do an online interview with them. I could not believe my ears and I still remember asking them in disbelief if they were actually hiring people during the pandemic. After two online interviews, with Sai's blessings I was accepted and started working with them in May 2020. This is yet another of Sai's miracles in my life and this happened after I joined the MP group in September 2019. It took time, but Sai has given me the job that I wanted. He is the sweetest, the kindest, the most loving father/mother figure to us all.
My girls are now grown – one is working and the other is completing university. The younger one tested positive for the Corona virus just after Christmas day 2020, but once again, thanks to our Sai Deva as this only affected her mildly and she is fine now. Even when they were children, it was Sai Who helped us when they both faced some health issues. Throughout our lives, He has blessed us time and again. I also faced some health problems very recently. When this problem started, I was in India on a visit and my cousin, who is a staunch devotee, gave me some Udi (Vibhuti) that he got from Shirdi and asked me to use it. Thanks to Sai's grace, today I am fine.
I pray that Sai stays in the hearts of people all over the world and keeps His loving hand over all of us. May we all have Faith and Patience (Shraddha and Saburi) as we gaze lovingly at His form and at His feet. We are all human and have a string of endless desires – may He forgive our sins and continue to bless us all with what He believes is best for us.
Bow to Shri Sai, Peace be to all.
Anonymous Sai Devotee
#MP-Experience 3097
Reclaimed Original Sale Deed With Sai's Blessings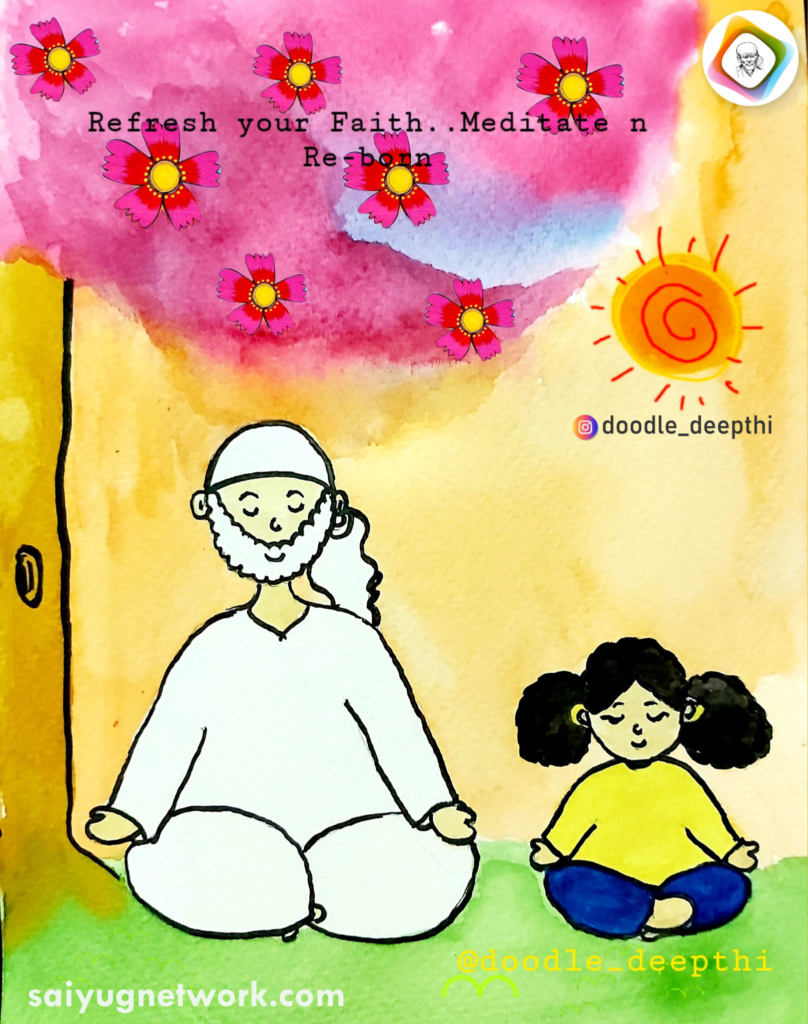 Shirdi Sai Global Mahaparayan Devotee Vinod Kumar From India Says:
Sir / madam,
I am a Sai devotee. I have much faith in Him. We used to do Mahaparayan regularly.
20 years back we gave our land sale deed original copy to the housing society for some legal issues. In spite of asking our original to return us they used to say that they were missing somewhere and that they could not find it.
At last they found our original copies and returned to us. We got our original sale deed after 20 years. It is the blessing of Sai Baba. We are in a very bad situation now. The land value is very high and all our problems will be solved if we sell the land .
Please do correction if there are grammatical mistakes
Om Sai.
Sai Devotee Vinod Kumar
#MP-Experience 3098
---
Those who wish to volunteer any service for Global Mahaparayan, may join temporary whatsapp group MP Sevaks and we will get in touch with you. Rise and Be Instrumental
Sai may delay but not deny for what we truly desire to deserve. He will never overlook our efforts and guide us to succeed. His ways are beyond our understanding. Whatever He does is for the sake of His devotees. Pray Him and His grace will start flowing. He knows your true needs, so stay calm as Sai will take care and give you hope, success and confidence. Jai Sairam! Thank You and Love You Deva. Jai Jai Ho Sai!😊 - Pooja Garg
26-Sep-2022
© Global MahaParayan Experiences – Member of SaiYugNetwork.com